From romantic nights to extravagant celebrations our brand new Mia Glassware in Noir adds an elegant layer to your tabletop design. Our new Mia Noir Glassware has become the little black dress of our collection. Like your closet staple little black dress, this glassware is sleek, versatile, and can be both a staple piece or thoughtful accent to create a truly one of a kind look. Together with the rest of our collection in mind we have put together three unique table settings that inspire the incorporation of black drinkware into your next event design.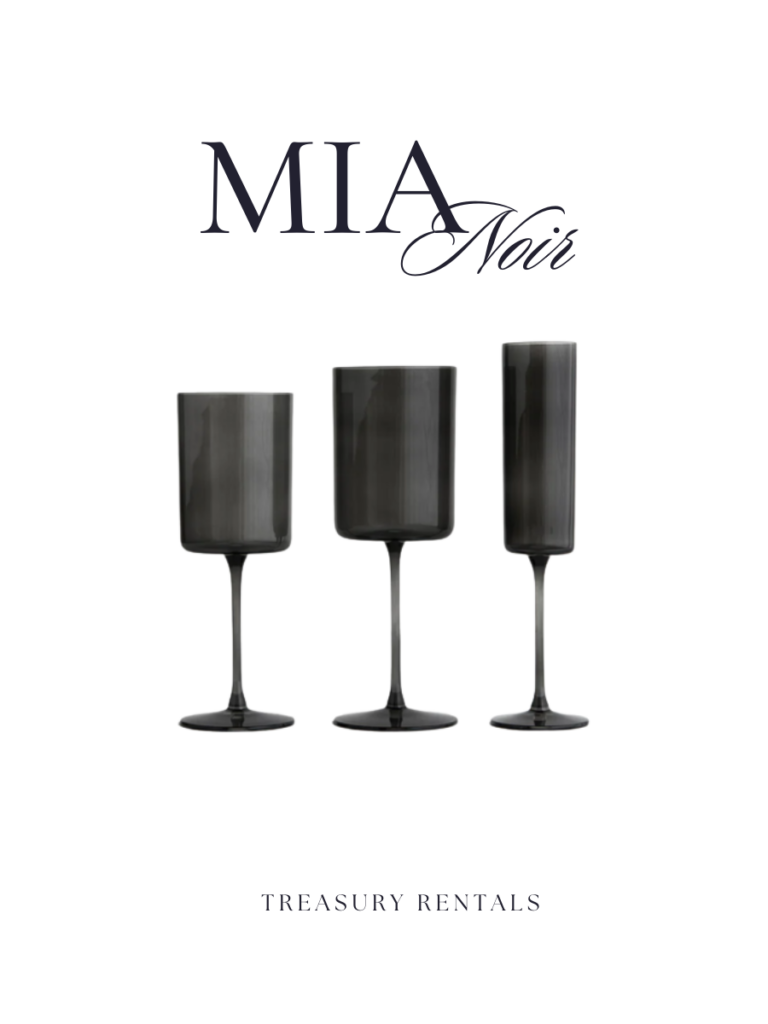 Modern Romance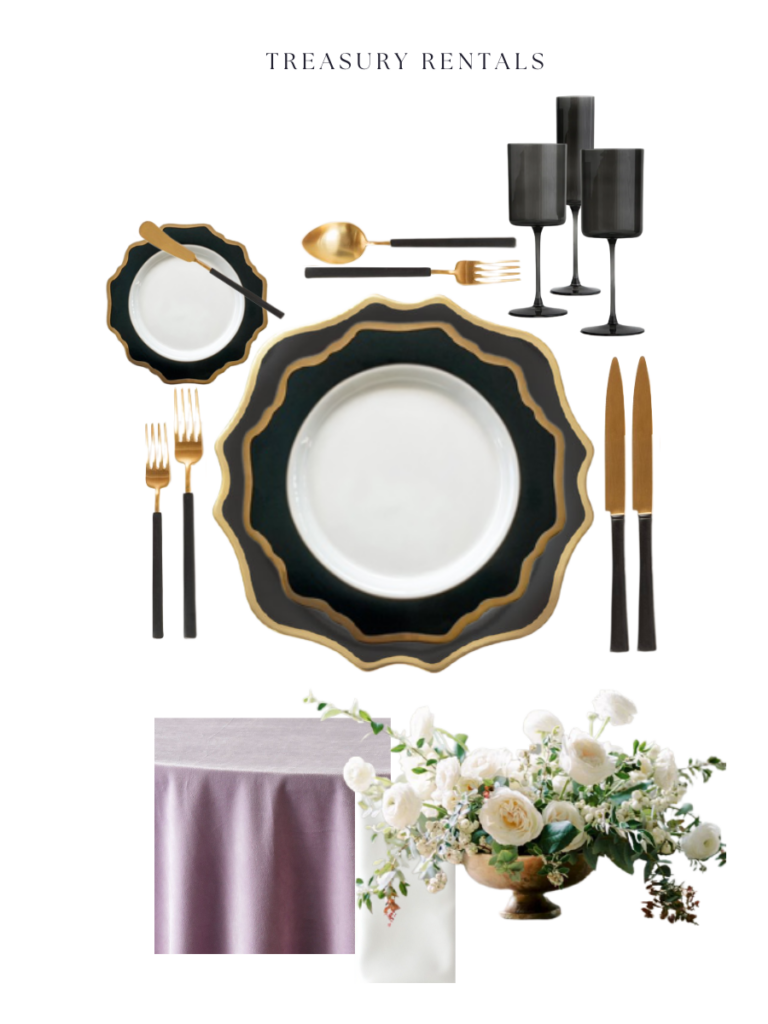 With a modern silhouette, the Mia glassware brings a thoughtful, contemporary feel to your tabletop setting. We lean into the balance of light and dark by pairing our Ella Charger and Dinnerware in Black. The scalloped rim designs of the Ella create both interest and texture that brings the overall setting to life. The sleek silhouette of the new Benjamin Flatware in Black and Gold accents the dramatic design of the plating to create a truly harmonious setting. For romantic celebrations such as Valentine's Day and anniversaries, add a bit of drama by incorporating hues of red or mauve with your florals, linens, and tabletop accessories.
Charger: Ella Black // Dinnerware: Ella Black // Flatware: Benjamin Black/Gold  // Mia Noir
Timeless Elegance
Some say simple, we say timeless. Together with our Black Stoneware Charger, Pressed Glass Dinnerware, and Treasury Rentals' exclusive Patina flatware, the Mia Glassware in Noir balances out the color-scheme of the entire setting. The intricate design of the Pressed Glass dinnerware provides texture and elegance, while the Patina flatware is refined yet dramatic with its special detailing. Add candles of your choice; to keep the setting understated add smaller votives and for a more dramatic elegance rely on tapers to set the mood. A touch of candle light can provide a warmth and intimacy that aligns with your celebration or special event to make your guests feel both cozy and welcomed. 
Charger: Black Stoneware // Dinnerware: Pressed Glass // Flatware: Patina // Mia Noir
Delicate Drama: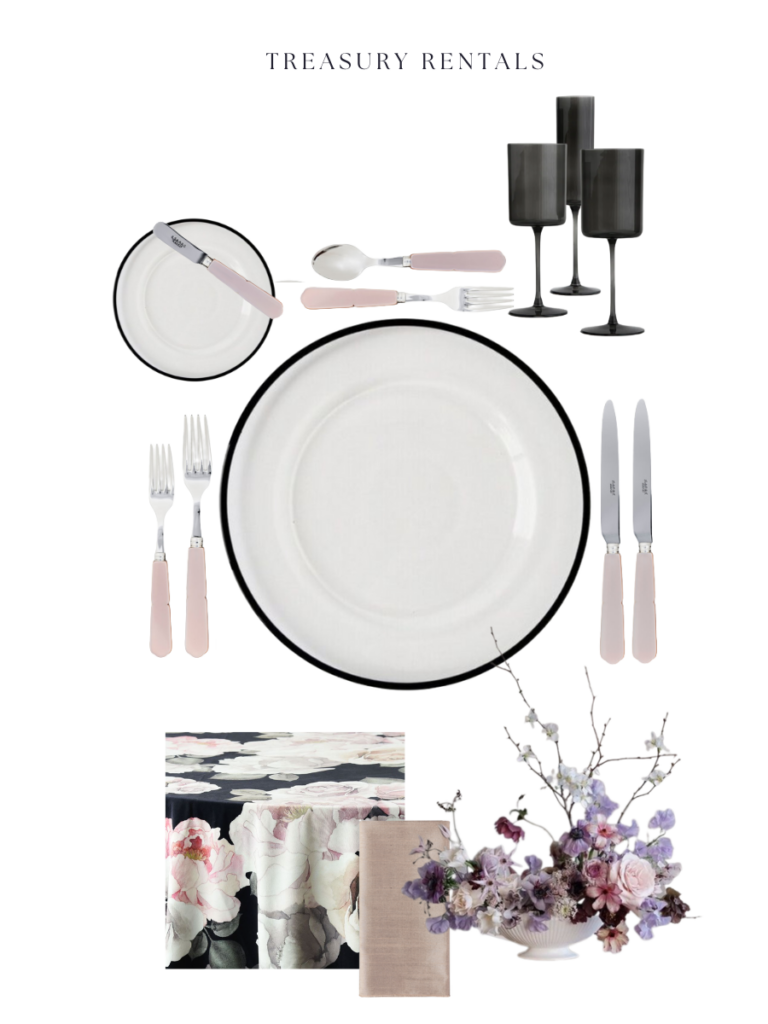 Black doesn't always have to mean brooding. With this design we relied on our Halo Black Rimmed Charger and Gustav Rose Quartz Flatware to add an elegant brightness to the setting and just a sweet touch of pink to illustrate the Mia Noir's softer side. Our Margaret Stoneware Dinnerware in Black could provide a dark and dramatic accent that can create a balance of both elegance and fun or set with just a charger for a clean and modern look. Call upon shades of pink, leafy green, and natural cool tones in your florals and linens for a bold yet delicate final design. Drawing on pinks and softer shades allows the black hues of the Mia to ground the overall design rather than define it. 
Charger: Black Halo Charger // Flatware: Gustave in Rose Quartz // Glassware: Mia Noir
Feeling inspired by our Mia Glassware in Noir? Share your favorite design ideas from this post, or let us know how you would like to see this new glassware incorporated into a unique tabletop design for your next event.